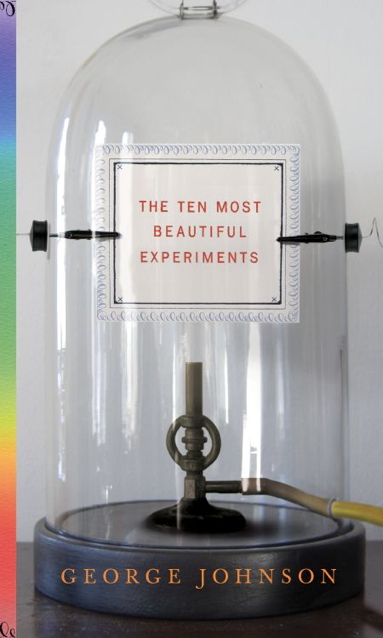 April 8, 2008, Alfred A. Knopf (New York) . . . second printing July 2008, third printing July 2008 . . . May 1, Bodley Head (London) . . . second printing before publication . . . also published by Editorial Ariel (Barcelona), Bollati Boringhieri (Turin), Mikado (Istanbul), Nikkei (Tokyo), Larousse (São Paulo), C.H. Beck (Munich), Cite (Taipei), Eco's (Seoul), Injoy (Bucharest), Face (Beijing), Metaixmio (Athens), Atticus (Moscow), CNRS Editions (Paris), Amarin (Bangkok), Kalima (Abu Dhabi) . . .
Ten bestselling science books of 2008, Amazon.
Public Appearances -- U.S. and U.K.
"A delightful book, giving succinct and elegant accounts of ten of the most central experiments in the history of science. It is also a useful reminder of the central role of experiment and observation as a basis for scientific progress, especially in an age when unsubstantiated speculation is still rampant in theoretical fundamental science. This book serves also to remind us theoreticians of the fact that beautiful reasoning has as important a scientific role in experiment as in theory." -- Roger Penrose
"Johnson's mix of the personal, the erudite and crystalline prose is -- like the pull of gravity (see beautiful experiment number 1) -- an irresistible force." -- Scientific American
The Art of Science -- Washington Post
New Book Celebrates Singular Scientists and Their Beautiful Experiments -- Wired
Eureka Revisted: "George Johnson's The Ten Most Beautiful Experiments makes its point as elegantly as the experiments it describes." -- Wall Street Journal
Pure Science: "In this homage to 10 curious souls, George Johnson singles out efforts eloquent and profound." -- New York Times Book Review
"Each essay shines a fine beam on the life and work of its subject, illuminating the key experiment and catching within its penumbra sparkling facets of biography and scientific context. . . . a delicious succession of vignettes." -- The Guardian (London)
A shocking appearance on The Colbert Report
Interview with Michael Feldman on Whad'Ya Know?
"From Galileo's use of songs to measure time to the names Pavlov gave his dogs, Johnson deftly relates the circumstances and eccentricities integral to the findings behind science's most seminal experiments." -- Seed
Interview with Tom Ashbrook for On Point --NPR
A main selection of the Scientific American Book Club
Advance Reviews:
"The New York Times science writer's favorite experiments from the golden ages of science. Johnson (Miss Leavitt's Stars: The Untold Story of the Woman Who Discovered How to Measure the Universe, 2005, etc.) says in the prologue that he deliberately chose experiments conducted before Big Science made huge teams of researchers and truckloads of apparatus the norm. Instead, he harks back to the days when lone investigators with homemade equipment were opening the frontiers of knowledge. . . . Pays wonderful homage to the science and scientists that helped create the modern world" -- Kirkus
"Award-winning science writer Johnson (Fire in the Mind; Strange Beauty) calls readers away from the industrialized mega-scale of modern science (which requires multimillion-dollar equipment and teams of scientists) to appreciate 10 historic experiments whose elegant simplicity revealed key features of our bodies and our world. . . .With these 10 entertaining histories, Johnson reminds us of a time when all research was hands-on and the most earthshaking science came from a single mind confronting the unknown." -- Publisher's Weekly
"Johnson's book is as elegant as the experiments he features . . . He shares personal anecdotes as well as theory in an engaging, compelling style. The result is a little gem of a book, enjoyable to read both as history and science" -- Book Page
"Like chess grandmasters, scientists sometimes talk about the beauty, elegance, or simplicity of a great experiment. Nonscientists much regard such praise as slightly incongruent until they peruse George Johnson's carefully constructed book The Ten Most Beautiful Experiments. The talented New York Times journalist and author (Miss Leavitt's Stars and A Shortcut Through Time) transports readers back to a time before supercomputers and multimillion-dollar particle detectors; a simpler time when scientists tested their theories with brilliant experiments that cut through complexity. (Sometimes almost literally: Newton painstakingly inserted a needle behind his own eyeball to learn how light causes vibrations in the retina.) Other experiments, recounted from the lives of Galileo, Galvani, William Harvey, Pavlov, and others, reveal how empirical thinking triumphed with the materials at hand. Graceful writing; captivating stories. -- Barnes & Noble